The excellent H7 Philips Diamond Vision headlight bulbs are the whitest upgrade available, these are a perfect styling product to have to standing out from the crowd.
Get as close as you can to the HID look, the deep blue bulb coating creates an intense white light (rated at 5000K) which will help to highlight potential hazards and obstacles sooner for a much safer night time driving experience.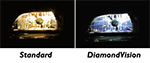 The Diamond vision bulb will not offer a greater light output but will provide you with a distinctive white light which will enhance the styling of your vehicle.
The H7 is a direct replacement bulb suitable for plastic lenses. These bulbs are not E marked so therefore are not strictly road legal.
Check out the reviews to see what others think about this excellent product.